Countdown to the First Day of School.... Monday, August 29! Cuenta Atras Para El Primer Dia De Clase....Lunes 29 de Agosto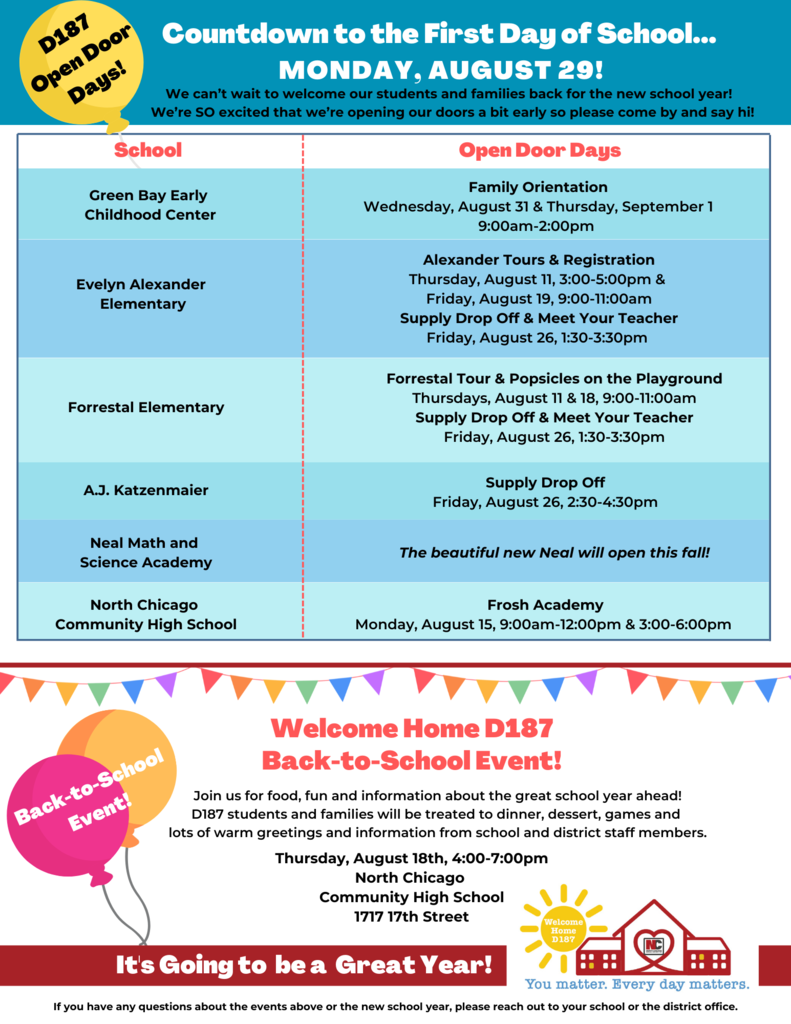 See our new student bell schedule!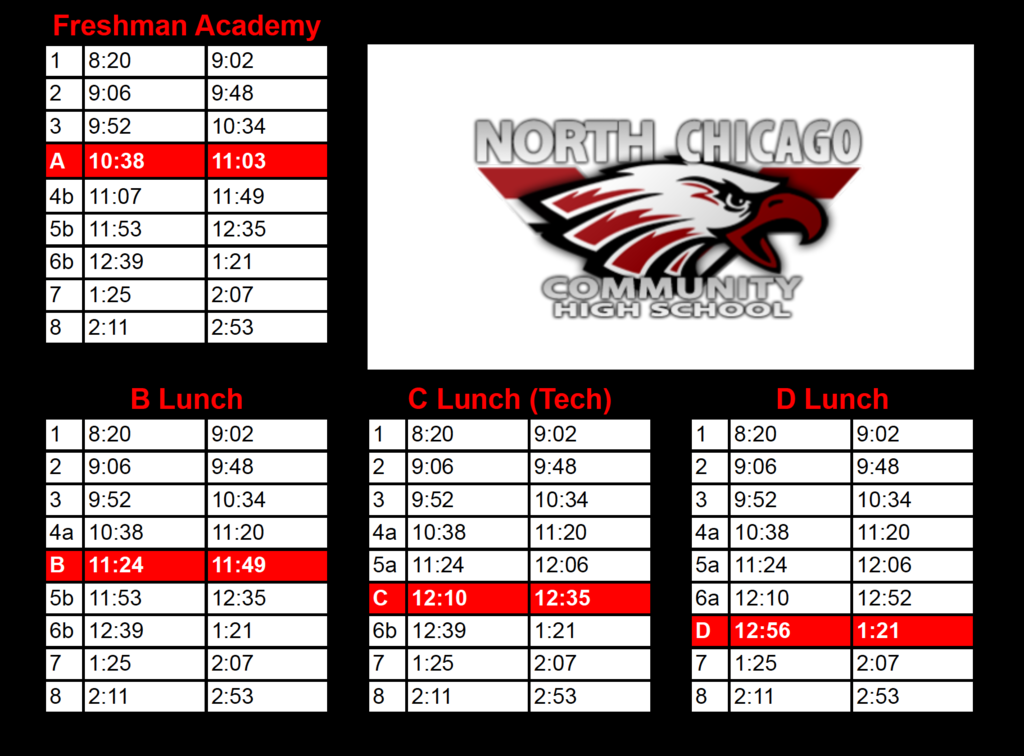 Welcome Home D187/Bienvenidos a casa D187!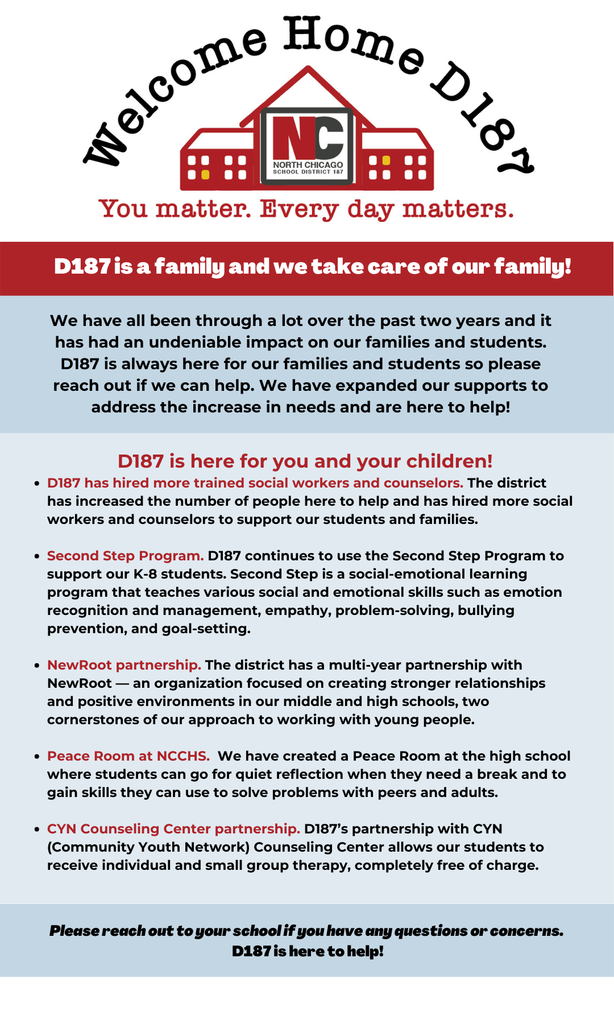 SAVE THE DATES/APARTE LAS FECHAS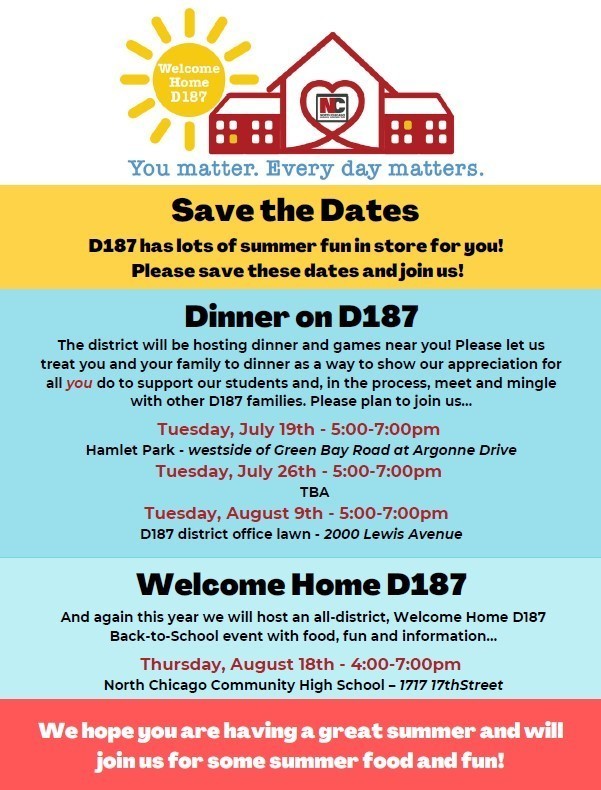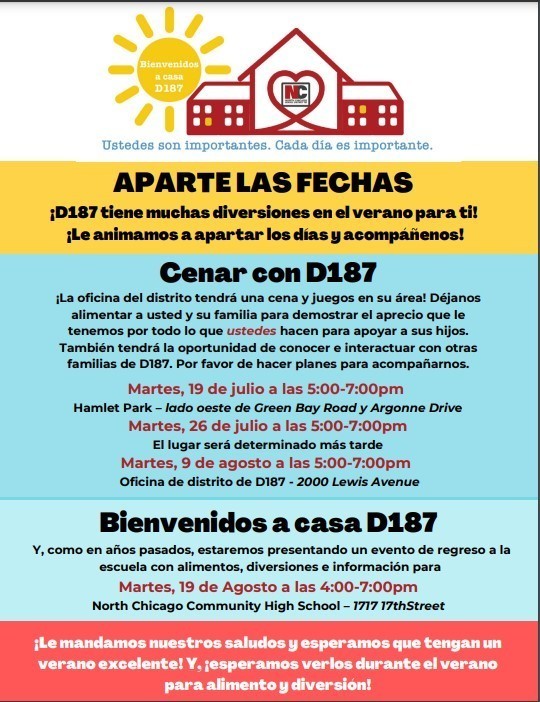 **ATTENTION** June's Board Meeting (6/28/22) will be "On The Road" at Green Bay Early Childhood Center at 6:30 pm.

Calling ALL Middle Schoolers/High Schoolers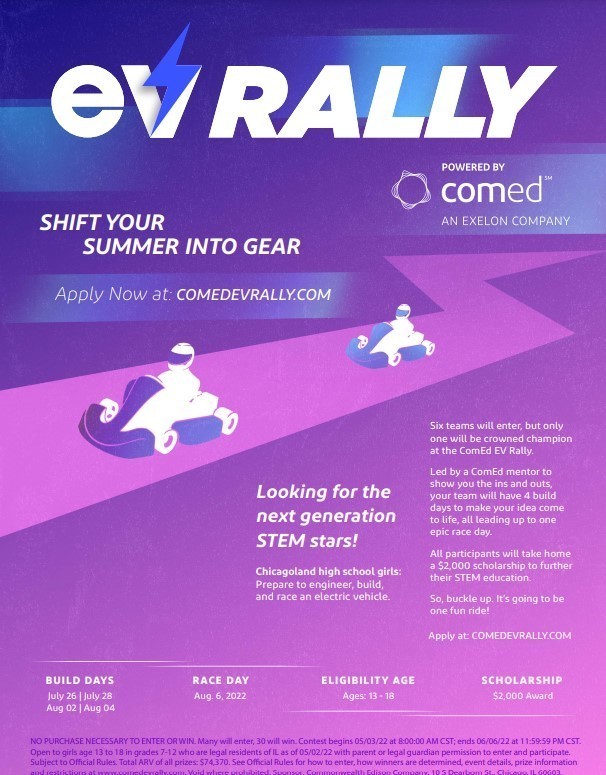 D187 FamiliesD187 Familias

EVERY DAY MATTER/TODOS LOS DÍAS IMPORTAN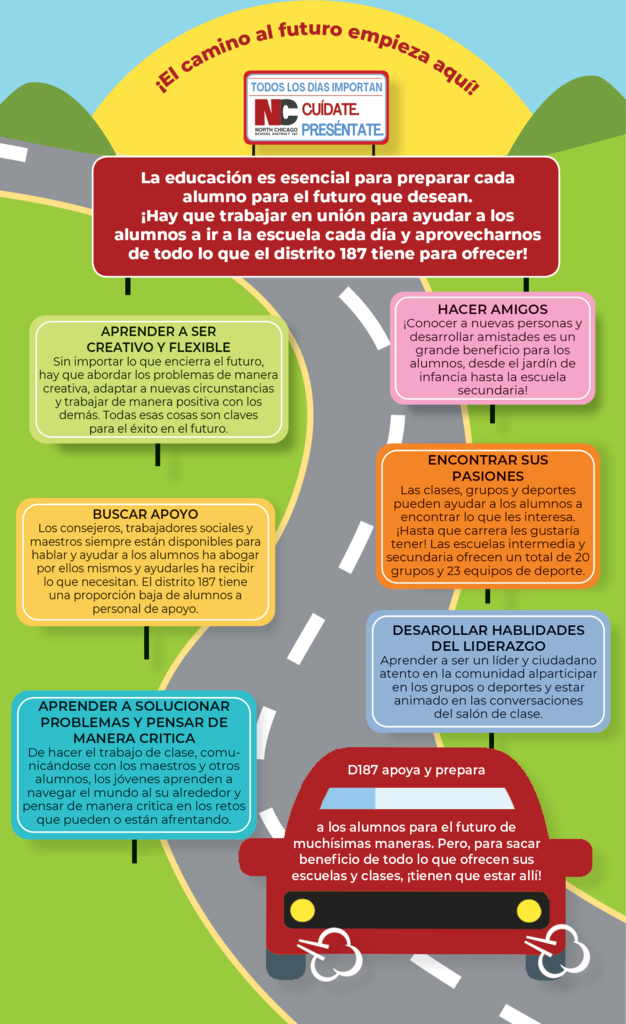 D187 Music Department Presents... D187 Departamento de Música Presenta...

D187 ISBE Update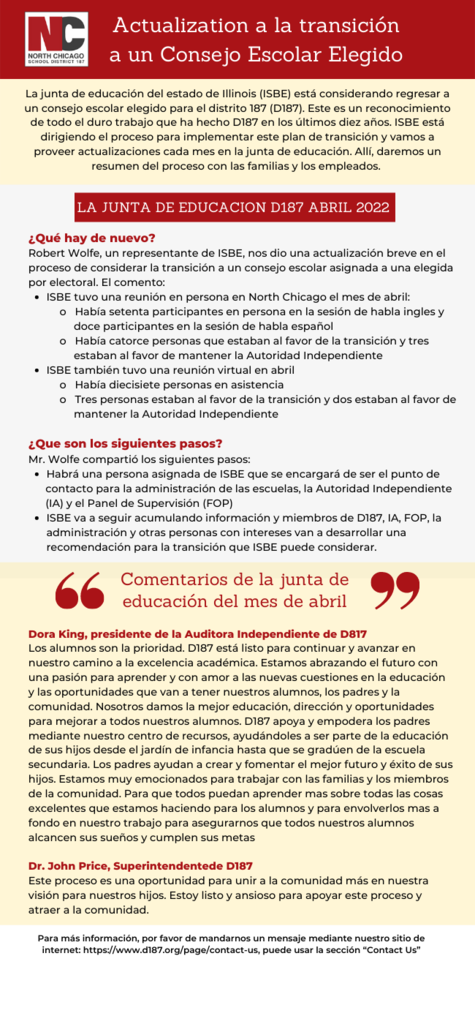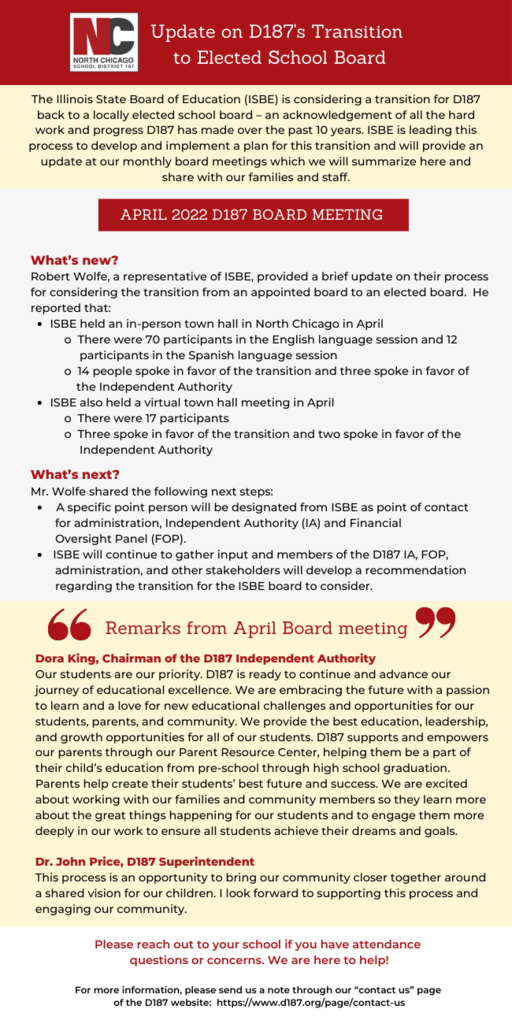 United by a Ball Mundialito 2022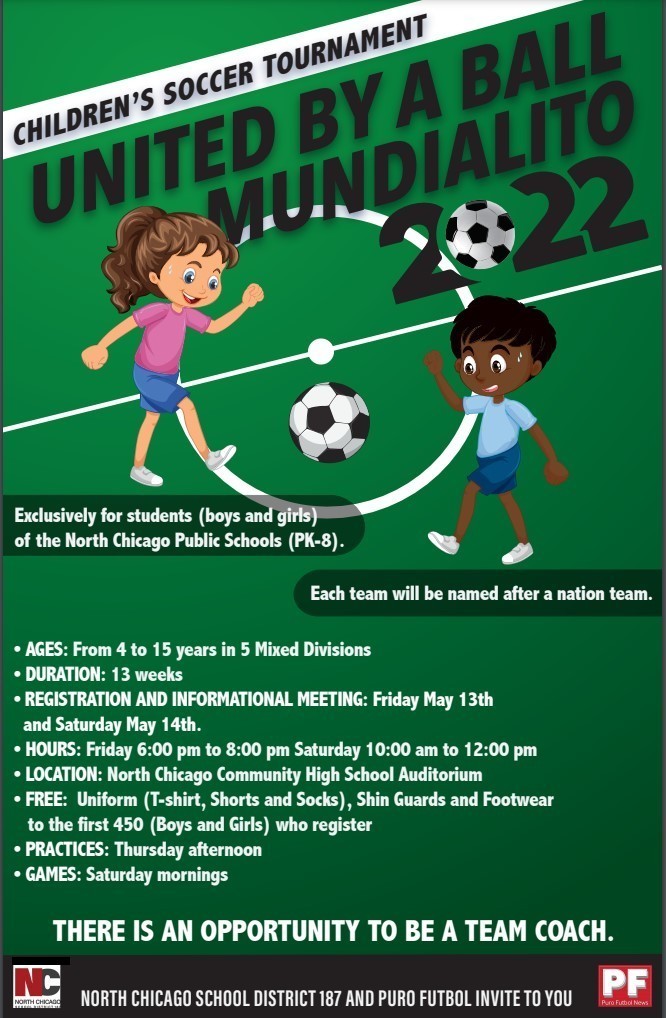 Remember to join us today @ 5:00 pm/Recuerda unirte a nosotros hoy a las 5:00 pm meet.google.com/agv-rcqd-qby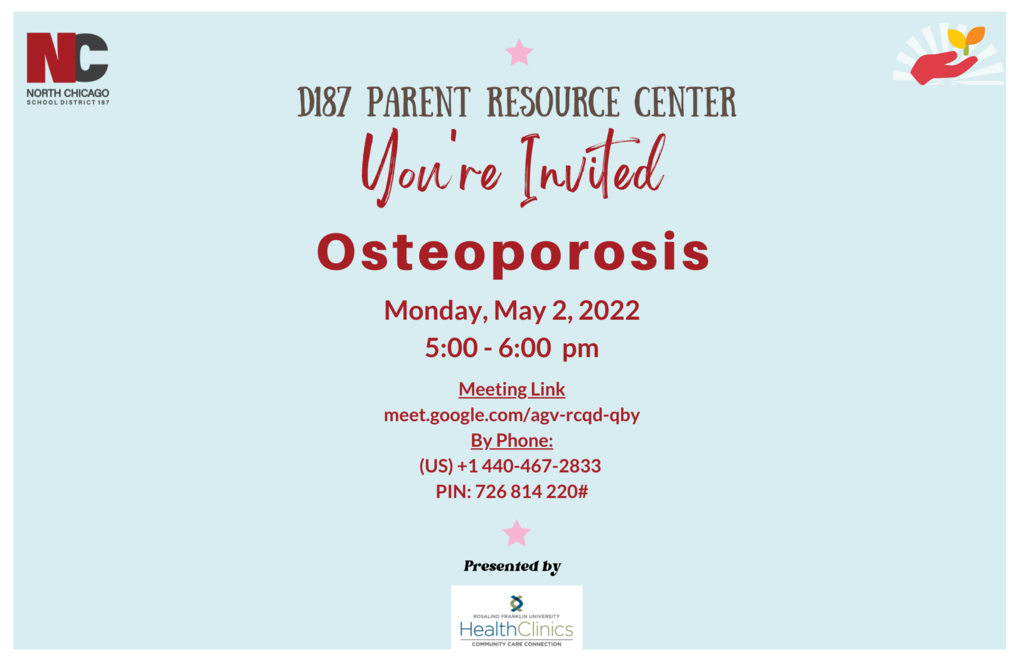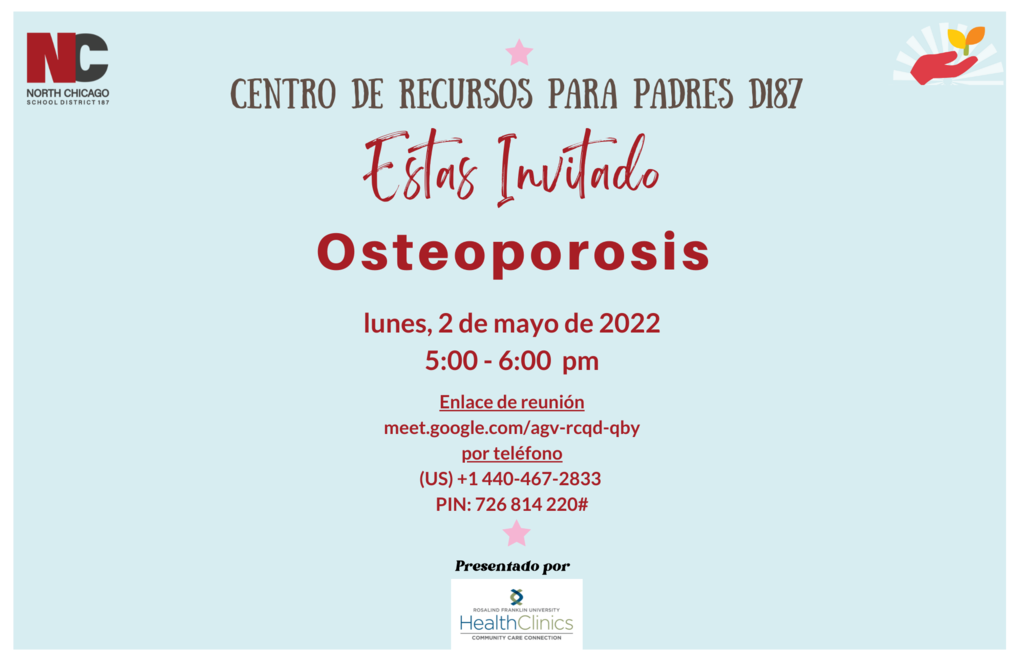 Remember to join us today @ 5:00 pm/Recuerda unirte a nosotros hoy a las 5:00 pm meet.google.com/eup-qpys-fmr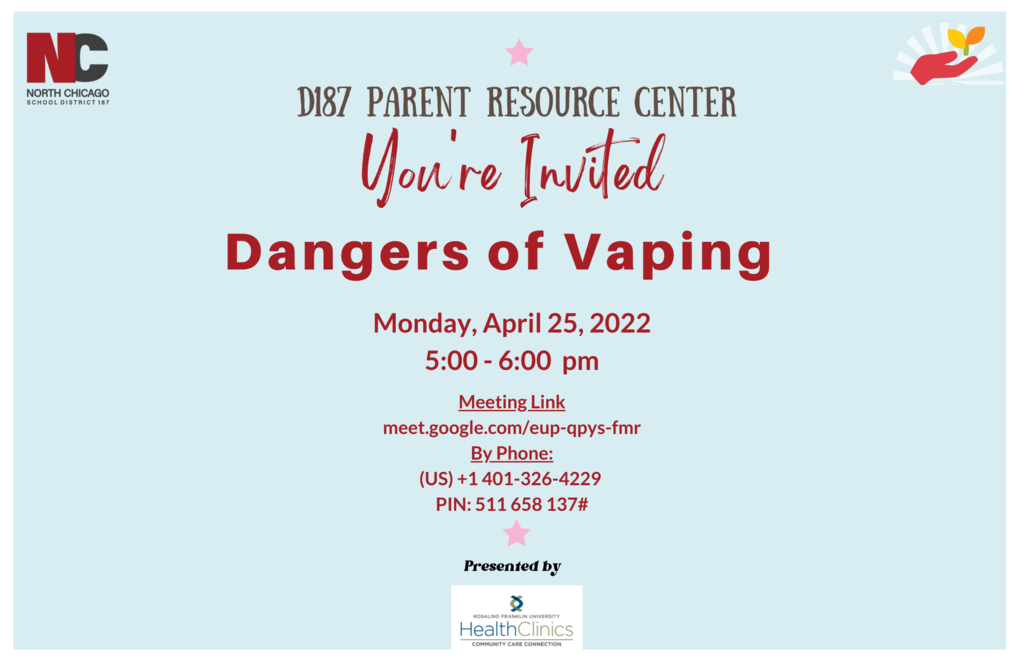 Join Us/Únete a nosotros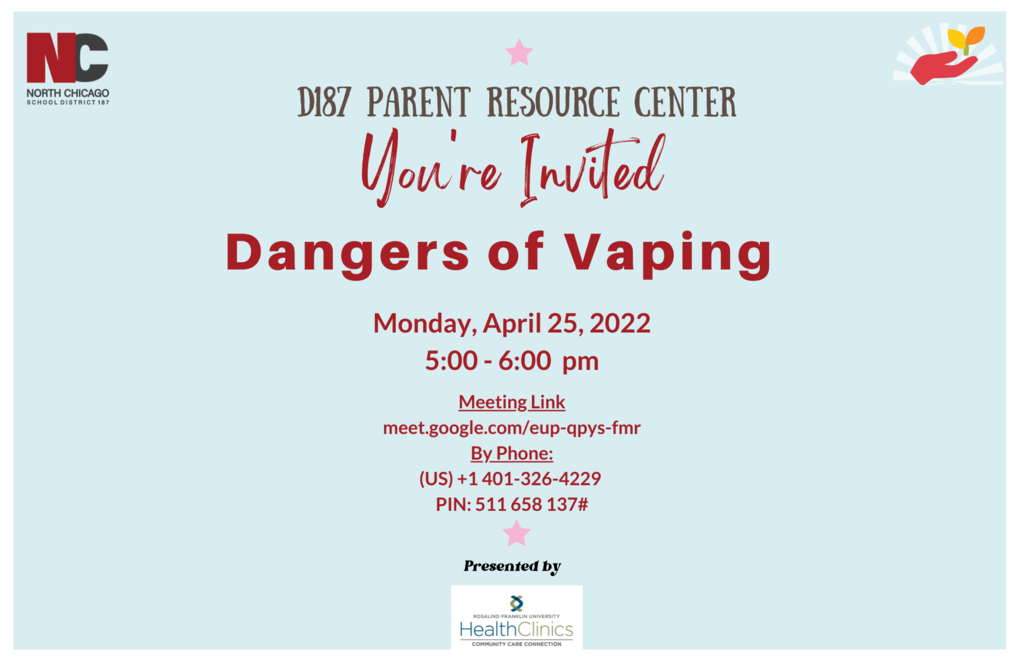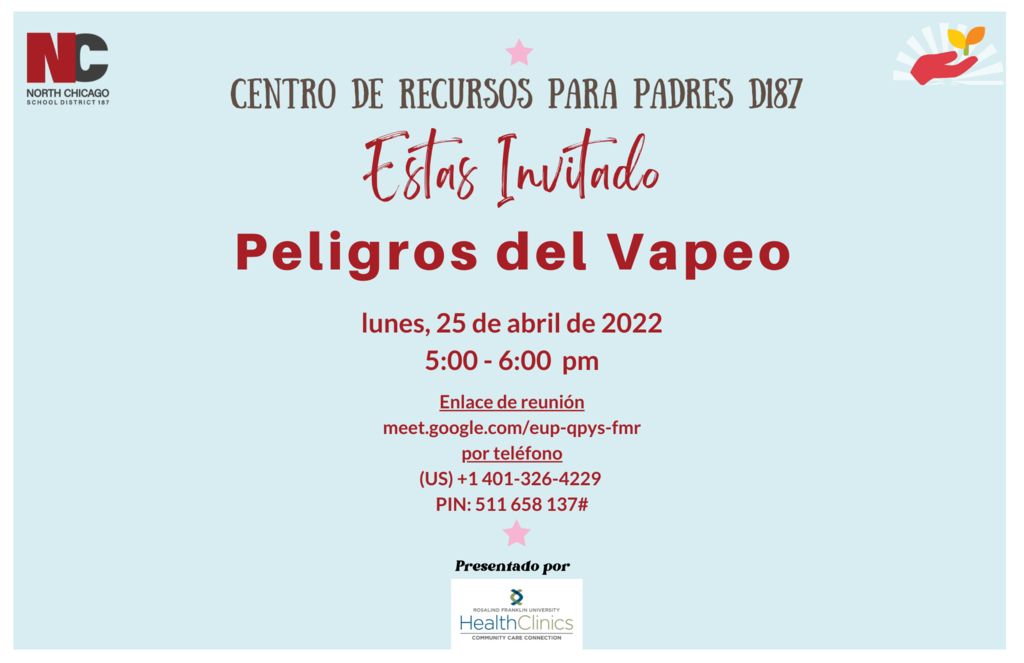 You're Invited/Estas invitado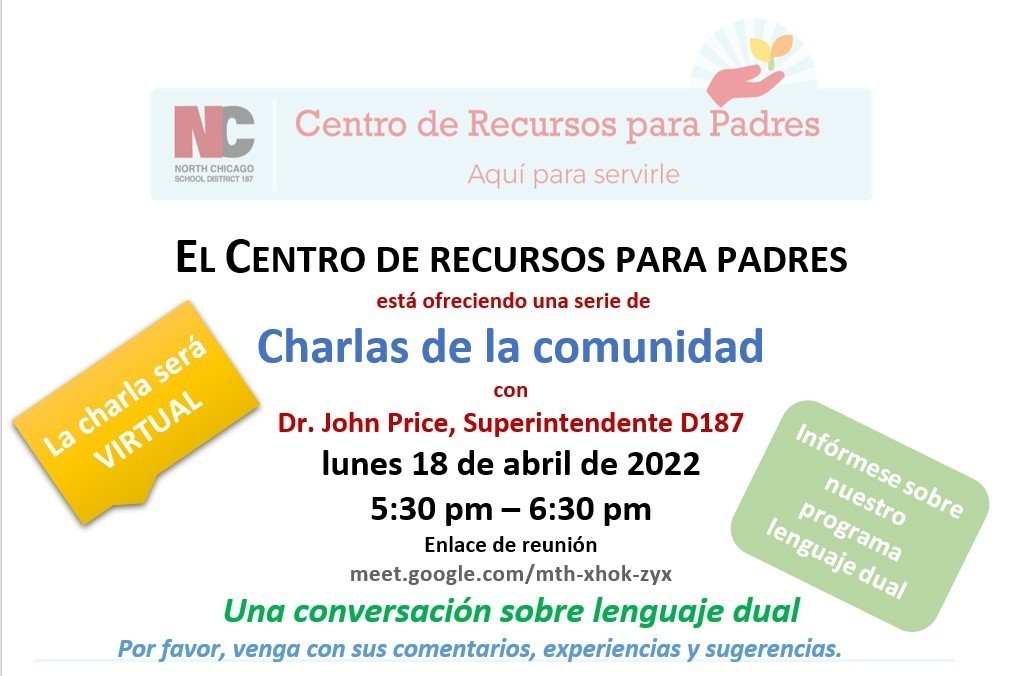 Every Day Matters/Todos Los Dias Importan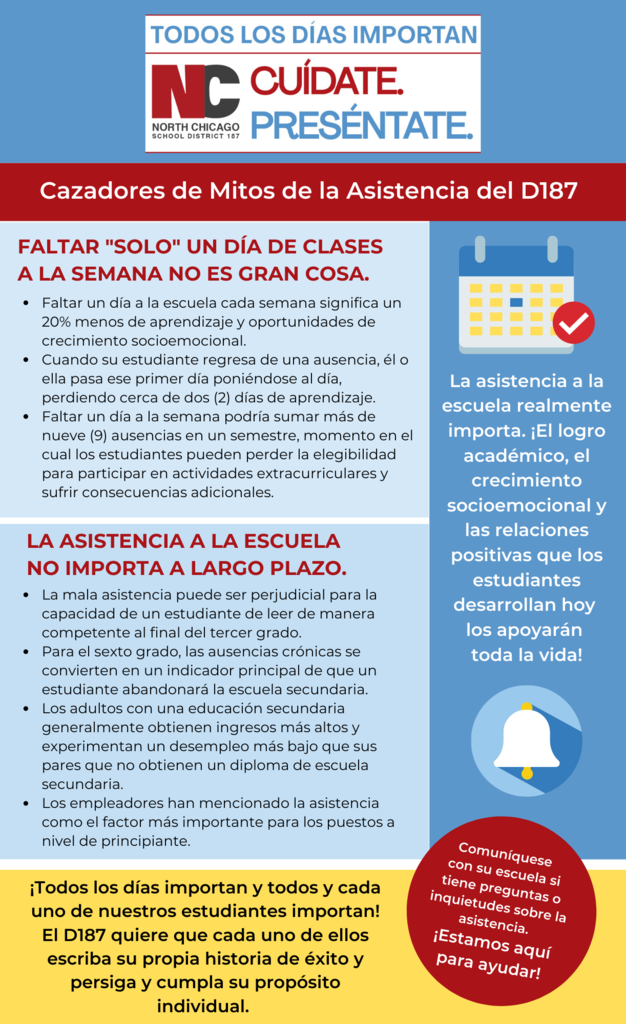 D187 Families The Family Care Closet will be open this Thursday, March 17th from 9:00 am - 11:00 am and 2:30 pm - 4:30 pm. **Will be closed during Spring Break** ************************************************************************************* D187 Familias El Family Care Closet estará abierto este jueves 17 de marzo de 9:00 am - 11:00 am y 2:30 pm - 4:30 pm. **Estará cerrado durante las vacaciones de primavera**

NCCHS Principal Letter for Parents / Carta de la Directora de NCCHS para los padres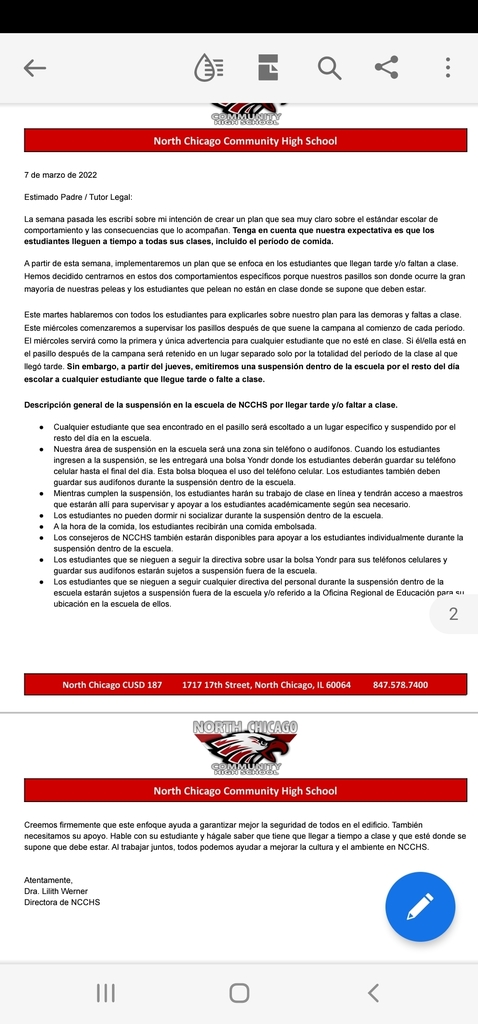 COME JOIN US FOR SOME FUN/VEN Y ÚNETE PARA DIVERTIRTE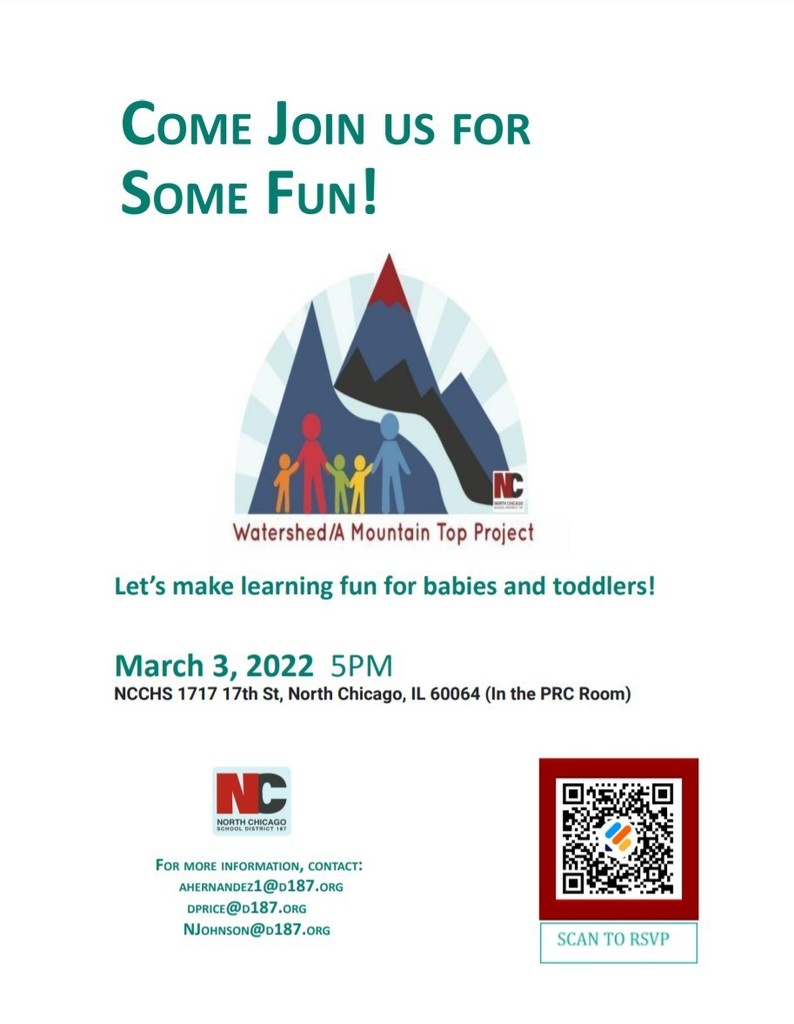 Dear NCCHS Parents/Guardians: The safety and well-being of NCCHS students, staff, and community are always our priority. As you may have seen on the news this school year, the majority of schools are struggling with increased student mental health and behavior challenges. We at NCCHS are no different. This week, we have had multiple fights break out between students. We have held those students accountable with school discipline. We recognize some of our students have been struggling with resolving their conflicts. Other students have found it challenging to remain respectful or follow school rules. We also know that some of our students have fallen prey to impulsive decision-making and, unfortunately, have escalated small conflicts into bigger ones over social media. We acknowledge that we have seen an uptick in student vaping and use of controlled substances. Schools provide safety, structure, social connectedness, and much more. The pandemic and lockdown have interrupted much needed socialization for our youth, and it is going to take some more time to return to pre-pandemic levels of stability. We need your help because school safety is a shared responsibility. It is important to talk with your students, be aware of their social media activity, listen to their concerns, and access available school counseling resources if needed. If you see something, say something. Reach out to us at school. If your child needs help managing conflict or peers, please call us. We have a team of counselors, social workers, deans, administrators, and teachers who are ready to help. If you have any immediate concerns, please call me directly at 1.847.775.1639. (I also need to let you know that privacy laws prohibit us from disclosing information on student discipline or the health and well-being of any other student involved in an altercation with your own child. We are only allowed to talk to you about your own child). We will be reaching out to you soon again to let you know specifically additional ways how we will support your student(s) as well as be very clear about the school standard for behavior and any accompanying consequences. Once we have the plan early next week, we will reach out to you again. Sincerely, Dr Lilith Werner Principal __________________________________ Estimados padres/tutores legales de NCCHS: La seguridad y el bienestar de los estudiantes, el personal y la comunidad de NCCHS son siempre nuestra prioridad. Como habrán visto en las noticias este año escolar, la mayoría de las escuelas están luchando con mayores problemas de comportamiento y salud mental de los estudiantes. Nosotros en NCCHS no somos diferentes. Esta semana, hemos tenido múltiples peleas entre estudiantes. Hemos responsabilizado a esos estudiantes con la disciplina escolar. Reconocemos que algunos de nuestros estudiantes han estado luchando para resolver sus conflictos. A otros estudiantes se les ha hecho difícil ser respetuosos o seguir las reglas de la escuela. También sabemos que algunos de nuestros estudiantes han sido víctimas de tomar decisiones impulsivas y, desafortunadamente, han escalado pequeños conflictos a otros más grandes en las redes sociales. Reconocemos que hemos visto un aumento en el uso de vapeo y el uso de sustancias controladas por los estudiantes. Las escuelas brindan seguridad, estructura, conexión social y mucho más. La pandemia y el confinamiento han interrumpido la socialización que tanto necesitan nuestros jóvenes, y llevará más tiempo volver a los niveles de estabilidad previos a la pandemia. Necesitamos su ayuda porque la seguridad escolar es una responsabilidad compartida. Es importante hablar con sus estudiantes, estar al tanto de su actividad en las redes sociales, escuchar sus inquietudes y acceder a los recursos de asesoramiento escolar disponibles si es necesario. Si usted ve algo, que nos lo comunique. Si su hijo/a necesita ayuda para manejar conflictos o compañeros, llámenos. Contamos con un equipo de consejeros, trabajadores sociales, decanos, administradores y profesores que están listos para ayudar. Si tiene alguna inquietud inmediata, llámeme directamente al 1.847.775.1639. (También necesito informarle que las leyes de privacidad nos prohíben divulgar información sobre la disciplina estudiantil o la salud y el bienestar de cualquier otro estudiante involucrado en un altercado con su propio hijo/a. Sólo podemos hablar con usted sobre su propio hijo/a). Nos pondremos en contacto con usted pronto nuevamente para informarle específicamente formas adicionales de cómo apoyaremos a su(s) estudiante(s), así como para ser muy claros sobre el estándar escolar de comportamiento y cualquier consecuencia que lo acompañe. Una vez que tengamos el plan a principios de la próxima semana, nos comunicaremos con usted nuevamente. Atentamente, Dra. Lilith Werner Directora